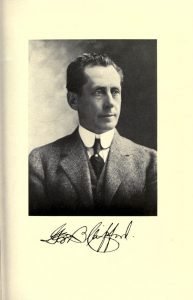 George B. Clifford was born at Concord, New Hampshire, March 10, 1858. His parents were Benjamin B. Clifford and Ruth N. (George) Clifford. He was educated in the public schools of Concord, New Hampshire; Newton and Chelsea, Massachusetts, and at Wilbraham Academy, Wilbraham, Massachusetts.
After leaving school he taught school in Vermont for one winter, and during the following summer he commenced studying law with Governor Roswell Farnham, of Bradford, Vermont. He finished his law course at Montpelier, Vermont., and was admitted to the bar of Washington county, Vermont, in March, 1881.
In April, 1881, Mr. Clifford located at Grand Forks, Dakota Territory, where he formed a law partnership with the late James H. Bosard, under the firm name of Bosard & Clifford, which continued for several years. Later Mr. Clifford gave up the practice of law to devote his entire attention to the mortgage and investment business. This business was conducted in Grand Forks under the firm name of "Geo. B. Clifford & Co." In January, 1909, the head office of the company was moved to Minneapolis, but Grand Forks remains the headquarters for the business of the company in that section.
From the time of his arrival in Grand Forks Mr. Clifford took an active interest in all movements for the proper development of the city. He aided in the erection of several of the finest business blocks, and was himself a heavy investor in enterprises of this class. For several years he was a member of the city council, of which body he also served as president, and he aided in the development of the plans for the first paving of the city's streets. He was one of the organizers of the Commercial Club, and he has been an active member of some of its most important committees.
Mr. Clifford's passion for beautiful surroundings found expression in untiring effort for the development of a park system for Grand Forks. The Town and Country Club, which was organized about 1900, owed its existence to his enthusiasm and initiative. That club obtained possession of and beautified a tract of over one hundred acres of land adjoining the city, laid out golf links and tennis courts and erected tasteful club buildings, and the grounds were marveled at and admired by all who saw them. It was the hope of Mr. Clifford that these grounds would ultimately become part of a city park system, and later he was able to see, largely through his own efforts, the fulfillment of his wish. Until a few years ago there was no method whereby North Dakota cities could acquire park property except through the action of their city councils, and these bodies were usually busy with other matters. In 1905 Mr. Clifford and a small group of other Grand Forks men caused to be framed and passed a law which was the basis of the present park district law of North Dakota. Under that law a Park Commission was organized in Grand Forks, with Mr. Clifford as its first president, and in 1909 this commission completed the purchase for the city of nearly two hundred acres of park property, including the Town and Country Club grounds and several smaller tracts.
Mr. Clifford has been active in the work of several social organizations, and he has been a member of the Masonic fraternity for many years.
In 1888 he married Minnie E. Cooley, daughter of John E. Cooley, of Grand Forks. There were born to them two children, Ralph E. Clifford and George Barnard Clifford.
Source
C.F. Cooper & Company, History of the Red River Valley, Past And Present: Including an Account of the Counties, Cities, Towns And Villages of the Valley From the Time of Their First Settlement And Formation, volumes 1-2; Grand Forks: Herald printing company, 1909.