Frank Wellington Wilder, born in 1857, hailed from a long line of Massachusetts settlers. Although he pursued a legal education, he never practiced law and instead ventured westward. In 1887, he arrived in Grand Forks, North Dakota, where he became involved in public affairs and played a crucial role in the establishment of the city's public library. His efforts in securing funding from Mr. Carnegie and donations from citizens for the library building were instrumental. Mr. Wilder, a dedicated member of various clubs and societies, has been a steadfast presence in Grand Forks, actively contributing to the community's growth and progress. He married Mary E. Booth in 1893, and they have a daughter named Marjorie.
---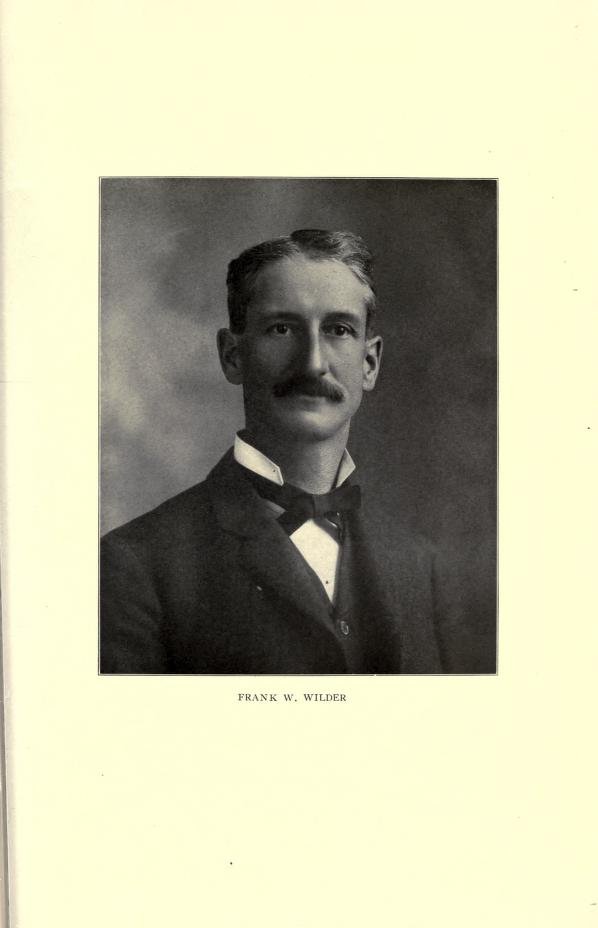 Frank Wellington Wilder was born on a farm in Sterling, Worcester county, Massachusetts, on April 23, 1857. His father was Josiah Wilder, and his mother, Sophia P. (Hayden) Wilder. The subject of the sketch is a direct descendant of Thomas Wilder, who came to Massachusetts Bay sometime not later than 1645 and settled in Lancaster, Mass., about three miles distant from the subject's birthplace. To this farm of his birthplace, his great-grandfather came about 150 years ago, and it remained in the family until his father's death. The ancestry is English. Mr. Wilder was educated in the local district school, the Clinton High School, Appleton Academy at New Ipswich, N.H., and at Tufts College, from which he graduated in 1880. He then studied law and was admitted to the bars in Iowa and Dakota Territory but did not practice his profession. He came West in 1882, and after a sojourn of six months in Iowa, came to North Dakota in March 1883 when the present metropolis of Ramsey County was just beginning its existence. He remained there about four years and then came to Grand Forks in September 1887. He formed a business connection with the Vermont Loan & Trust Company and has been one of the officers of that corporation and a managing officer at Grand Forks ever since.
Mr. Wilder has never desired political preferment and has never held an elective office. He has, however, taken an active interest in public affairs, and his influence has always been on the side of improved conditions in municipal affairs and toward a larger citizenship in every way. The city of Grand Forks is largely indebted to him and his efforts in securing its fine public library building. He was greatly interested in the organization of and was instrumental in procuring a gift for the erection of a library building from Mr. Carnegie and aided in securing donations from citizens for the site. He was appointed a member of the first public library board and has continued on the board ever since, having been continuously elected its president. Mr. Wilder was an enthusiastic member of the Pioneer Club from his arrival in the city until it was superseded by the Commercial Club, and has also been an active member of the Commercial Club from its organization. He is a member of the Franklin Club and also of the Audubon Society.
Mr. Wilder was married September 20, 1893, in Geneseo, New York, to Miss Mary E. Booth. They have one daughter, Marjorie Booth Wilder, born January 9, 1896.
Source
C.F. Cooper & Company, History of the Red River Valley, Past And Present: Including an Account of the Counties, Cities, Towns And Villages of the Valley From the Time of Their First Settlement And Formation, volumes 1-2; Grand Forks: Herald printing company, 1909.